Hello.
First of all thanks a lot to everyone who joined Denovali Swingfest Essen this year. We hope you've had a nice weekend. Thanks for being such a great, patient, calm and nice audience.
Sorry that processing orders needed a bit longer during the past three weeks – we were superbusy with the festival. We're back in our regular working rhythm now.
NEW RELEASES
This month we're pleased to present you the new albums of
Piano Interrupted
and
Thisquietarmy
. In line with the new album of Eric we're presenting his classic "Blackhaunter" for the first time on vinyl.
::: Piano Interrupted - The Unified Field Cd | 12''
::: Thisquietarmy - Hex Mountains Cd | 12''
::: Thisquietarmy - Blackhaunter 12''
Direct download:
www.denovali.com/mp3shop
NEW ARTIST
We're pleased to inform that the Italian composer
Federico Albanese
is part of the Denovali family from now on. We'll release his debut album called "The Houseboat and the Moon" in February 2014.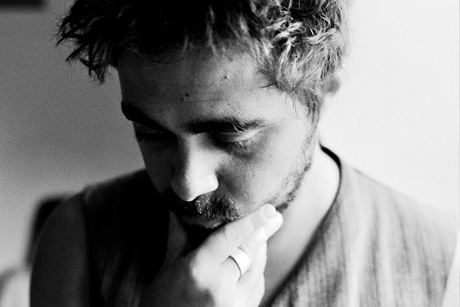 First pieces:
www.denovali.com/federicoalbanese
Facebook:
www.facebook.com/federicoalbanesemusic
DENOVALI SWINGFEST UPDATE
We're currently already working under full sail on the three 2014 Swingfest editions. The dates and venues for Berlin and Essen are already confirmed. The London details hopefully will follow soon.
Denovali Swingfest Berlin 2014
www.facebook.com/events/522479181156159
Denovali Swingfest Essen 2014
www.facebook.com/events/546784548727096
LIVE UPDATE
A lot of Denovali artists are on the road in October and November. You can find a complete list of dates attached at the end of the newsletter.
MAILORDER UPDATE
This week's mailorder news: AmenRa 10'' repress, new Grails, Haxan Cloak s/t repress, new Agnes Obel restock, Portico Quartet live record, Boards Of Canada represses, Jon Hopkins restock, new Sun Ra vinyl etc.
Thanks a lot.
Denovali
www.denovali.com/mailorder
www.denovali.com/mp3shop
Piano Interrupted - The Unified Field CD | LP | DIGITAL
Piano Interrupted is the brainchild of London-based pianist and composer Tom Hodge and French electronic producer Franz Kirmann. Coming from two very different musical worlds (electronica, pop and techno for Franz; classical and minimalism for Tom), the two musicians had been friends for a long time before deciding to make music together. The Unified Field is Piano Interrupted's 2nd album.
It was recorded in London in the first half of 2013 and features 10 brand new compositions. Kirmann and Hodge began the recording process on Tom's childhood piano, a Pleyel baby grand complete with its own peculiar characteristics and quirky charm. Recordings of Greg Hall's cello followed, as well as the new addition of Tim Fairhall on double bass.
The title of the album comes from David Lynch's book Catching The Big Fish. In the context of his film-making, Lynch explains that if such a field exists then everything within it interconnects in one way or another, so that scenes and elements that may initially seem disconnected from each other emotionally or in terms of meaning, would in fact eventually make sense. This idea seemed particularly fitting in a musical context also, as it neatly captures Piano Interrupted's core music-making methodology; namely to draw upon multiple, varied styles and influences and bring them into one coherent unifying whole. The Unified Field exhibits many classic Piano Interrupted's traits and tropes, but whereas their debut album Two By Four was all about discovery, the new album is about the deepening musical relationship between Kirmann and Hodge through their continuous exchange of ideas. If Two by Four was an amalgamation album borne of three EPs, then The Unified Field is a much more focused and concise snapshot of Piano Interrupted's approach.
The new album simultaneously refers back to the intense intricacy of early EPs whilst building on developments from Piano Interrupted's live explorations and improvisations as well as the extended recording techniques and filmic sound of the Papa Hedi EP. Dense arrangements of fragile piano, colourful cinematic soundscapes, organic rhythmic textures and rich, warm strings provoke a diverse range of emotions. The Unified Field is both a seductive, one-time listening experience and a record to return to again and again to reveal its intricate secrets and subtleties.
Stream:
www.denovali.com/pianointerrupted
Download:
www.denovali.com/mp3shop
Facebook:
www.facebook.com/pianointerrupted
Vinyl - LP:
::: thick sleeves + thick inner sleeves; 180g vinyl
::: download code
::: limited edition: 150 electric blue
::: regular edition: black vinyl
::: price: 17.00 Euro
Cd:
::: nice digipak
::: price: 13.00 Euro
Thisquietarmy - Hex Mountains CD | LP | DIGITAL
Thisquietarmy - Blackhaunter LP | DIGITAL
THISQUIETARMY is the solo project of Canadian Eric Quach (formerly member of the instrumental post rock band outfit DESTROYALLDREAMERS). Since 2005 he explores under this moniker the never-ending spectrum of the guitar and its potential for exceptional ambient and loop drone sounds. Characterisic for Quach's experimental sounds is the inclusion of structural elements and textures from different genres such as post punk, shoegaze, kraut rock, post rock, black metal and doom metal. With a boundless creativity and energy Quach has released 20 physical records so far and has played over 200 concerts all around the globe in over 20 countries, including Canada, the US, Brazil, and almost all Europe.
The new album HEX MOUNTAINS encompasses Thisquietarmy's sonic growth through his latest travels & encounters across the world. Touring & sharing the stages with monumental bands such as Year of No Light, Caspian, Om, Deafheaven or Russian Circles has definitely marked his desire to take it up a notch. In an attempt to follow that ambition, Eric Quach leaves the misanthropy aside and enlists the help of drummer Scotty Rooney (Alaskan), bassist Dorian Williamson (Northumbria/Adoran) and vocalists Émilie Bresson & Jeanne Peluard (Monarch) to add fresh elements to TQA's sound: thundering drums, thick foggy bass and witch-like shrieks, while retaining thisquietarmy's signature drone-based soundscapes that remain omnipresent throughout the record.
The collaborative sessions were recorded live in the Basque countryside and in various urban parts of Canada, then brought back together in the studio to extract its essence, crafting as a result TQA's heaviest and darkest album yet. The epic guitar riffs, the explosive melodies and the uplifting beats will make you soar, but the creepy noise sorcery, the mental screams and the weighty burden will also make you want to throw up. From one peak to the other, climbing Hex Mountains is one hell of a trek.
In line with the release of this new album, Denovali Records will issue TQA's sophomore album Blackhaunter for the first time on vinyl.
Stream:
www.denovali.com/thisquietarmy
Download:
www.denovali.com/mp3shop
Facebook:
www.facebook.com/thisquietarmy
Vinyl - LP:
::: thick sleeves + thick inner sleeves; 180g vinyl
::: download code
::: limited edition Blackhaunter: 150x A/B Milky Clear + white
::: limited edition Hex Mountains: 150x ultraclear
::: regular edition: black vinyl
::: price: 16.00 Euro
Cd:
::: nice digipak
::: price: 13.00 Euro
DENOVALI WORLD WIDE WEB
www.denovali.com
www.denovali.com/mailorder
www.denovali.com/mp3shop
www.denovali.com/distribution
www.denovali.com/booking
www.denovali.com/swingfest
www.facebook.com/denovalirecords
www.twitter.com/denovali
www.soundcloud.com/denovali
www.youtube.com/user/denovalirecords
www.myspace.com/denovali
STILL ACTUAL
den161 | Field Rotation - Fatalist: The Repetition of History Cd | 2x12''
den162 | Oneirogen - Kiasma Cd | 2x12''
den163 | Thisquietarmy - Aftermath + Setting Ashes 2x12''
den164 | Petrels - Onkalo Cd | 2x12''
den165 | Dominic - Persona Cd | 12''
den166 | Piano Interrupted - Two By Four Cd | 2x12''
den167 | Terminal Sound System - A Sun Spinning Backwards Cd | 2x12''
den168 | Witxes - Sorcery Geography Cd | 12''
den169 | Witxes - A Fabric Of Beliefs Cd | 2x12''
den170 | Greg Haines - 2006-2012 3xCd | 5x12''
den171 | Greg Haines - Where We Were Cd | 2x12''
den172 | AUN - Alpha Heaven Cd | 12''
den173 | Sankt Otten - Messias Maschine Cd | 2x12''
den174 | Floex - Gone 10''
den175 | John Lemke - People Do Cd | 12''
den176 | Sebastian Plano - Arrhythmical Part of Hearts Cd | 12''
den177 | Sebastian Plano - Impetus Cd | 2x12''
den178 | The Dale Cooper Quartet - Quatorze Pièces de Menace Cd | 2x12''
MAILORDER UPDATE
Agnes Obel - Aventine 12''+Cd [18€]
Agnes Obel - Aventine Cd [15€]
Agnes Obel - Aventine Ltd. Boxset [32€]
All Pigs Must Die - Nothing Violates This Nature 12'' [19€]
AmenRa - Afterlife (Black w/ White Haze) 10'' [15€]
AmenRa - Mass III 2x12'' [25€]
Ane Brun - Rarities 2xCd [15€]
Archive - With Us Until You're Dead 12''+Cd [21€]
AUN - Motorsleep Cd [13€]
Bell Witch - Longing 2x12'' [23.5€]
Bl'ast - Blood 12'' [22€]
Boards Of Canada - Geogaddi 3x12'' [25€]
Boards Of Canada - Music Has The Right To Children 2x12'' [22€]
Boards Of Canada - The Campfire Headphase 3x12'' [22€]
Bryan Ferry Orchestra - Great Gatsby 12'' [28€]
Centuries - Taedium Vitae 12'' [22€]
Charles Mingus - Blues & Roots 12'' [17€]
Charles Mingus - Changes Two 12'' [18.5€]
Charles Mingus - Clown 12'' [17€]
Christian Naujoks - Untitled 12'' [15€]
College - Heritage 12'' [19.5€]
Daniel Bjarnason - Over Light Earth 12'' [17€]
Daniel Bjarnason - Over Light Earth Cd [17€]
Disappears - Era 12'' [20€]
DKV Trio - Schl8hof 12'' [18€]
Do Make Say Think - S/t 2x12'' [25€]
Earth - Hibernaculum 12'' [18€]
Edward Artemiev - Solaris: Music From The Motion Picture (Andrej Tarkovsky) 12'' [26€]
Ef - Ceremonies 2x12'' [23€]
Fink - Meets The Royal Concertgebouw Orchestra 2x12'' [29.5€]
Four Tet - Late Night Tales 2x12'' [22€]
Girls Against Boys - The Ghost List 12'' [16.5€]
Grails - Black Tar Prophecies Vols. 4, 5 & 6 2x12'' [22.5€]
Grails - Black Tar Prophecies Vols. 4, 5 & 6 Cd [14.5€]
John Tilbury & Oren Ambarchi - The Just Reproach 12'' [18€]
Jon Hopkins - Immunity 2x12'' [19€]
Jon Hopkins - Insides 2x12'' [19€]
Jon Hopkins - Light Through The Veins 12'' [9€]
Jon Hopkins - Open Eye Signal (+ Remixes) 12'' [11€]
Kreidler - Mosaik 2014 12'' [16€]
Kwes - Ilp 2x12'' [19.5€]
Land of Kush - The Big Mango 12'' [22€]
Machinedrum - Vapor City 2x12'' [19.5€]
Magic Arm - Images Rolling 12'' [17€]
Master Musicians of B. - Totem 3 Picture 12'' [21.5€]
Matana Roberts - Coin Coin Chapter Two: Mississippi 12'' [23.5€]
Matana Roberts - Coin Coin Chapter Two: Mississippi Cd [14€]
Minus the Bear - Acoustics 2 12'' [20.5€]
Modern Life Is War - Fever Hunting 12'' [16.5€]
Monomyth - S/t 2x12'' [22€]
Muddy Waters - Down On Stovall's Plantation 12'' [18€]
Oathbreaker - Eros|Anteros 12'' [16€]
Of Montreal - Lousy With Sylvianbriar 2x12'' [18€]
Oneohtrix Point Never - R Plus Seven 2x12'' [20€]
Panopticon - Kentucky 2x12'' [23.5€]
Portico Quartet - Live / Remix 2x12'' [28€]
Red Fang - Whales And Leeches 12'' [19.5€]
Refused - Everlasting 12'' [18€]
Sandro Perri - Spaced Out 12'' [14€]
Sun Ra - Second Stop Is Jupiter 12'' [17.5€]
Sun Ra - The Futuristic Sounds Of Sun Ra 12'' [23€]
Sun Ra - The Outer Darkness 12'' [17.5€]
Swingfest - 2013 Essen - Limited 24'' x 11'' Poster [8€]
Swingfest - 2013 Essen Record Bag [6€]
The Field - Cupid's Head 2x12''+Cd [23€]
The Haxan Cloak - S/t 2x12'' [22.5€]
The Moth - They Fall 12'' [15€]
Thisquietarmy - Blackhaunter (Black Vinyl) 12'' [16€]
Tim Hecker & Daniel Lopatin - Instrumental Tourist Cd [15€]
Tim Hecker - Mirages 2x12'' [27€]
Touche Amore - Is Survived By 12'' [15€]
Valgeir Sigurdsson - Ekvillibrium Cd [10€]
Vestiges / Panopticon - Split 12'' [18€]
Waxwing - For Mad Men Only (White Vinyl) 12'' [23€]
Waxwing - Nobody Can Take What Everybody Owns 12'' [23€]
Waxwing - One For The Ride (Blue Vinyl) 12'' [23€]
Xasthur - The Funeral Of Being Cd [14.5€]
LIVE DATESA DEAD FOREST INDEX (AUS)
05.11.13 Brighton (uk) - Concorde 2
06.11.13 London (uk) - Forum
07.11.13 Bristol (uk) - Trinity
09.11.13 Manchester (uk) - Ritz
10.11.13 Glasgow (uk) - Classic Grand
11.11.13 Leeds (uk) – Vox
AUN (CAN)
17.10.13 Rome (it) - DalVerme
18.10.13 Nantes (fra) - Le Lieu Unique
19.10.13 Angers (fra) - L'étincelle
24.10.13 Bordeaux (fra) - Heretic Club
25.10.13 Pau (fra) - 19 Rue Montpensier
26.10.13 Avignon (fra) - Pub Z
27.10.13 Sumène (fra) - À La Ferme Chez Olivier
28.10.13 Montpellier (fra) - Villa des Cent Regards
29.10.13 Marseille (fra) - le Casse-tête
30.10.13 Lyon (fra) - Le Sonic
31.10.13 Genova (it) - Spazio Targa
02.11.13 Trento (it) - Campomarzio
04.11.13 Bologna (it) - Bar Modo Infoshop
05.11.13 Ancona (it) - Glue Lab
12.11.13 Haifa (isr) - tba
14.11.13 Jerusalem (isr) - Uganda
15.11.13 Tel Aviv (isr) - Levontin 7
FLOEX (CZ) + POPPY ACKROYD (UK) + JOHN LEMKE (GER)
02.11.13 Olmütz (cz) - Jazz Tibet Club
04.11.13 Brno (cz) - Kabinet Muz
05.11.13 Prague (cz) - CR Studio 1
06.11.13 München (ger) - Feierwerk
07.11.13 Marostica (it) - Panic Jazz Club
09.11.13 Budapest (hun) - Mika Tivadar Mulató
20.11.13 London (uk) – Scala*
*Floex and Hidden Orchestra
LENTO (IT)
31.10.13 Paderborn (ger) - Thumbs Up Festival (Kulturwerkstatt Paderborn)
03.11.13 Berlin (ger) – Kili
PIANO INTERRUPTED (UK/FR)
08.11.13 Essen (ger) - C3 Festival
22.11.13 Diksmuide (bel) - 4AD
23.11.13 Antwerp (bel) - DE Studio
24.11.13 Berlin (ger) - Waldo
27.11.13 Düsseldorf (ger) - Approximation Festival
28.11.13 Brussels (bel) - tba
29.11.13 Utrecht (nl) - Le Guess Who Festival
THE PIRATE SHIP QUINTET (UK)
04.11.13 Bristol (uk) - Cube Cinema
THISQUIETARMY (CAN)
16.10.13 Barcelona (es) - Heliogabal
17.10.13 Madrid (es) - Space Cadet
18.10.13 Lisbon, Portugal - Sabotage Club
20.10.13 Porto, Portugal - Amplifest
21.10.13 Oviedo (es) La Caja Negra
22.10.13 Gijon (es) - Cafe Dam
23.10.13 San Sebastian (es) - TBA
24.10.13 Bordeaux (fr) - Heretic Club
25.10.13 Pau (fr) - 19 rue Montpensier
26.10.13 Avignon (fr) - Pub Z
27.10.13 Sumène (fr) - À La Ferme Chez Olivier
28.10.13 Montpellier (fr) - La Villa des Cent Regards
29.10.13 Marseille (fr) - Le Casse-Tête
30.10.13 Lyon (fr) - Le Sonic
31.10.13 Lausanne (ch) - La Crypte
01.11.13 Genoa (it) - Spazio Targa
02.11.13 Trento (it) - Campomarzio
03.11.13 San Zenone degli Ezzelini (it) - Punky Reggae Pub
04.11.13 Bologna (it) - Bar Modo Infoshop
05.11.13 Ancona (it) - Glue Bar
06.11.13 Rome (it) - Dalverme Circolo
08.11.13 Milan (it) - Cox 18
09.11.13 Paris (fr) - La Cantine de Belleville
12.11.13 Brussels, Belgium - Magasin4
14.11.13 Antwerp (be) - Ceremony of the Ascension Festival
15.11.13 Liège (be) - L'An Vert
16.11.13 Bochum (ger) - Moving Noises Festival
Arrivé(e) au fond du trou, il/elle creuse




Nombre de messages

: 312


Age

: 37


Date d'inscription :

18/07/2009




---
Permission de ce forum:
Vous
ne pouvez pas
répondre aux sujets dans ce forum