I SCREAM ASSO présente :
Le Mercredi 27 Février 2013, au Klub :
A LOT LIKE BIRDS
(Featuring ex-Dance Gavin Dance Frontman Kurt Travis)
VIOLET
THE BUTCHER'S RODEO
BUFFORD TANNEN
|| PAF : 8€ en prévente, 10€ sur place
Préventes disponibles :
- auprès des groupes
- à Landscape Rockshop 16 rue Keller – Bastille
- Sur Moxity
|| Ouverture des portes : 19h00
-----------
|| Pour en savoir plus :
A LOT LIKE BIRDS (USA - Sacramento, California)
Genre : Progressive/Post-Whatever/Experimental
Dog House Records / Artery
Featuring ex-Dance Gavin Dance Frontman Kurt Travis
Pour les fans de Dance Gavin Dance, Foxy Shazam et Closure In Moscow.
A Lot Like Birds is a post-hardcore band from Sacramento, CA, known for their tendency to flawlessly blend a wide array of genres; from ambient soundscapes to aggressive punk-fueled anthems to unpredictable prog-rock freakouts.
The band was initially the brainchild of guitarist Michael Franzino. Franzino invited a couple Sacramento-based musicians and friends to perform with him, the result being Plan B, the band's debut album. After solidifying a consistent lineup, the band started to pick up buzz in the Sacramento scene, with their dynamic and energetic live shows getting rave reviews.
In early 2011, the band announced that Kurt Travis (formally of Dance Gavin Dance) would be joining the band as a second vocalist. Soon after, they signed to Doghouse Records (All American Rejects, Say Anything, The Get Up Kids) and acquired The Artery Foundation (Asking Alexandria, Dance Gavin Dance, Alesana) as management.
After signing both deals, they entered Interlace Audio Recording Studio with producer / engineer Kris Crummet (Closure In Moscow, Fear Before, Dance Gavin Dance) to record their second full length, Conversation Piece.
After it's release in the fall of 2011, Conversation Piece received praise and they were called "one of post-hardcore's most important new bands and one of the few capable of saving the scene." (-MindEqualsBlown.net).
A Lot Like Birds will spend all of 2012 on the road, taking their new album and frenzied live antics to the masses.
VIOLET (Derby, UK)
Genre : Pop, Rock, Alternative
Small Town Records
Violet formed in August 2007 and since then they have made a huge name for themselves in the underground music scene with self releasing an album and two EP's and have now re-released The Brightside since signing to Small Town Records.
Their unique style helps them to appeal to a wide spread audience and they always manage to put on an impressive live show no matter what the size of venue they always show the passion and drive they have for the music they write.
With 7 members and a style which can be fitted into a number of different genres the band are really hitting us with something a little different to other bands on the underground scene today.
THE BUTCHER'S RODEO (Paris)
Genre: Hobocore
It was at the beginning of the summer of 2010 that The Butcher's Rodeo sees the day at Ste Marthe Studios in Paris, France.
Drawing on diverse influences such as DEAD AND DIVINE and EVERYTIME I DIE, their debut EP "LIKE A HOBO ON A BISON" is released by the end of 2010 and allows the five butchers to play several shows, including opening for bands such as CANCERT BATS and PROTEST THE HERO.
The Butcher s Rodeo end the year by writing their new 7 track ep 'GHOSTS IN THE WEIRDEST PLACES " while being on the road for their future international shows.
The band will be shooting their first video "BLIND ARMY" which will be released by the beginning of 2012.
BUFFORD TANNEN (Paris)
Genre: Post-Hardcore
|| Accès:
Le Klub : 14 rue Saint Denis - 75001 Paris
Métro Châtelet les Halles: L4 – L1 – L7 -L11 – L14
RER: A / B / D
Bus RATP: 1, 67, 74, 72, 81, 85, 47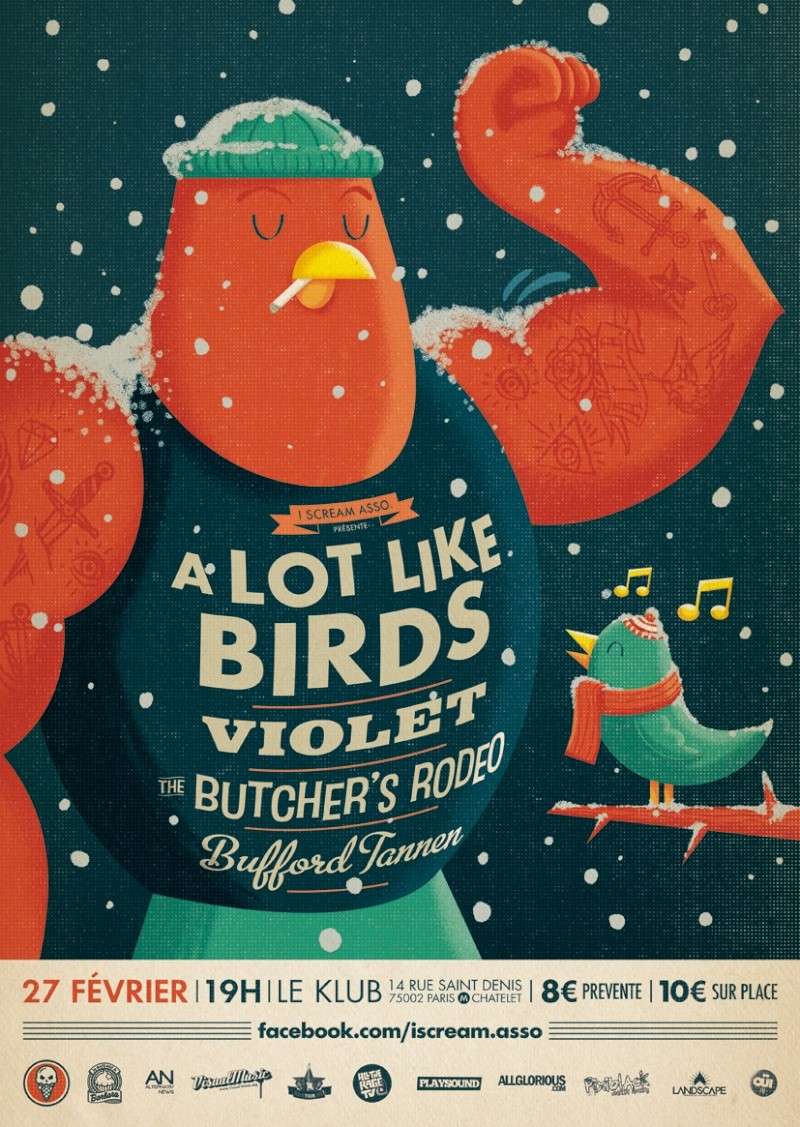 Pourquoi les inconnus restent-ils inconnus ?




Nombre de messages

: 8


Age

: 30


Date d'inscription :

17/05/2012




---
Permission de ce forum:
Vous
ne pouvez pas
répondre aux sujets dans ce forum